Featured in Foodie Mag 'Velocurean'
Posted by Olivia on Sunday, March 6th, 2011
We've been featured in foodie magazine Velocurean!
Just last month, writer Randy Bramblett and photographer Sherry Heck composed a beautiful recipe using our Hot, Sweet & Passionate set (Olio Diavolo, Passionfruit Vinegar & Lime Olive Oil). The dish: Salmon Over Arugula with Mango and Walnut Wild Rice. It looks amazing! Fresh, bold, and simple--our fave things in a meal.
We're just thrilled to have been featured in such a delightful recipe, and we are stoked to try it out. Goodness knows we can never get enough of the Hot, Sweet & Passionate set—we're always looking for more ways to use it!
Many thanks to Velocurean for such a thoughtful piece.
Salmon Over Arugula with Mango and Walnut Wild Rice
Ingredients:
-14 ounces fresh coho salmon (cut into 4 3.5 oz pieces)
- smoked sea salt (or any variety sea salt)
- crushed black pepper
- fresh lemon wedges
- 1 cup wild rice (yields 4 cups cooked)
- 1/4 cup dried, unsweetened mango, diced
- 1/4 cup crushed raw walnuts
- 2 tbsp lime olive oil
- 2 tbsp chili olive oil
- 1/4 cup passion fruit vinegar
-5 ounces organic baby arugula
- dash sea salt and black pepper
- drizzle of olive oil
Directions:
Unwrap salmon filets and rub on smoked sea salt and pepper with olive oil. Apply lemon wedges to each serving. Let sit.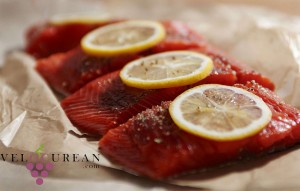 Cook wild rice (note: wild rice expands much more than white or even brown rice) add dash of salt. Once cooked, add diced dried mangoes. Drain and add in passion fruit vinegar, and all olive oils and walnuts. Serve Hot.
Grill Salmon filets on high heat (brush grill with olive oil). Cook until bright red starts to turn slightly pink – DO NOT overcook.
Toss arugula in olive oil and salt/pepper. Make a bed on plate and place salmon filet on top.
Serve rice on the side.
Makes: 4 servings (for portion controlled plates)
---
Share This
---
comments powered by